23. March 2011 | Updated: 20. March 2011
Article
1835-1908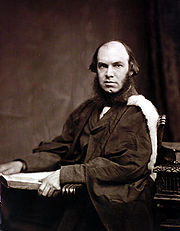 Caird, a part of the idealist movement in Great Britain, was Fellow of Merton College, Oxford, professor of moral philosophy in the University of Glasgow and Master of Balliol College, Oxford.
Was known for his work on Kant in A Critical Account of the Philosophy of Kant (later editions published under the title The Critical Philosophy of Kant)
Gave the Gifford Lectures on the evolution of religion and the evolution of theology.
Held that the very conflict between idealism and materialism demanded a synthesis. He rejected that "common sense" could adjudicate these tensions in light of Humean skepticism.
In Caird's opinion, Kant provided a unifying synthesis: "The distinction between subject and object emerges within the unity of consciousness, a unity which is fundamental." (Copleston). This unity is present in science.
Caird viewed religion as being formed out of the awareness of this unity in conflict. He saw three stages in the development of religion

Stage 1: awareness of object (materialism)

Stage 2: awareness of subject (idealism)

Stage 3: awareness of the unification of both stages (religion)
Caird was the brother of John Caird, Presbyterian theologian and preacher and professor of divinity at the University of Glasgow
Quote of the day: On subject and object, "We are forced to seek the secret of their being in a higher principle, of whose unity they in their action and reaction are the manifestations, which they presuppose as their beginning and to which they point as their end."